Imagine being unrestrained. Unrestrained in your life, in your relationships, in your business. Imagine leveling up, stepping up your game in each of these critical areas. What would that look like? Image a more successful, confident, prosperous you. It's hard to imagine. It seems far fetched. But it. Is. Possible.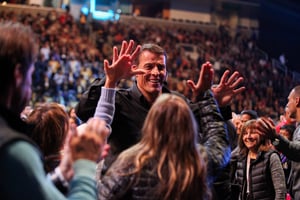 BizX member Tony Robbins is the worlds most well known and successful self-help guru. He is credited by Presidents, CEO's, sports legends, and Hollywood superstars as a fundamental ingredient enabling them to reach their potential. Millions of people the world over see Tony as a force of nature, consuming tons of his content and, for the lucky few, attending one of his legendary seminars. These action packed events bring together thousands of business owners, executives, and entrepreneurs willing to shell out thousands to see the man himself, and take their first bold step towards the future they've only dreamed of. The best investment you can make is an investment in yourself.
This is where BizX members have a leg up. You are able to spend your BizX to attend any of Tony's legendary events. Investing your time, energy, and effort in a more successful and enjoyable future, but KEEPING your cash in the bank. So many members have spent their BizX on these once-in-a-lifetime experiences that Tony has been able to save over $300,000 by buying media with his BizX dollars!
If you want to strive for better, for more, now you have no excuse.
This March, take control. Spend your BizX dollars to participate in Tony's three day signature experience, Unleash the Power Within, in the San Francisco Bay Area.