Unless you've been living under a rock, it should come as no shock to anyone that mobile technology has become a huge part of our daily lives. We use our phones for everything – navigation, social media, watching TV, and sometimes, to call people. In fact, 91% of smartphone owners have their phones within arm's reach 24/7.
Why does this matter? If your business has a web component and you aren't planning a mobile marketing strategy, then you are costing your company a very significant source of visitors, and ultimately customers. Being able to conduct business on your phone is the ultimate form of convenience, and if your company isn't easily accessible to customers, they may think, "meh, why bother?"

So what does mobile marketing look like? Below are some of the most important actions you can take to make your mobile strategy a success.
Be Compatible with Your Customers
Apps are great, but not every company needs them. Sometimes a website that has been optimized for a mobile device is all that's necessary. Apps are a good idea if your customers will use them regularly. A banking app is very useful because it streamlines the banking process for people. If your app exists solely to tell people about you, and offers no other interactive services for your customers, then you're better off with a "responsive" website, or one that adjusts to whichever screen type you're viewing it on.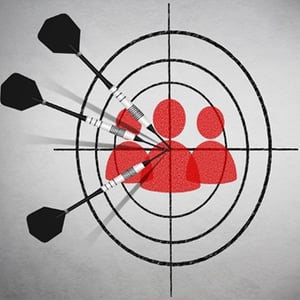 Whichever path you take, it is important to make sure your app or website is compatible across all devices. A website that only formats correctly on an iPhone alienates Android and Windows Mobile users. Knowing what devices and platforms your customers are using can save you a lot of time and money in developing your strategy.
Make Yourself Accessible
How annoying is it to look up the website of your favorite Thai food restaurant and have to spend time digging around trying to find a phone number so you can place an order?
If your users have to click on multiple links just to find out how to call you, then you aren't accessible enough. Put your contact information (phone number, address, email, etc.) on the first page that your users see, otherwise you will lose customers to the more accessible competitor next door.
Use Social Media to Your Advantage
Social media marketing is more than just having a company Facebook account. Smartphones and social media platforms are the new peanut butter and jelly. If you adapt your marketing strategy to use those mobile-friendly platforms to your advantage, you're going to net a lot of viewers.
Using in-app advertising, or linking your website/app to a website with a lot of traffic is the digital equivalent of putting billboards up along the highway. A lot of popular apps like Facebook and Twitter allow "sponsored" posts, and if you take advantage of this, you can target your ad to their users.
Get the Hang of Mobile Search
One of your best friends in the mobile marketing game is Google. When people don't know exactly what they want, they turn to Google to find services.
You want to be one of the top results that pop up when a user types in a generic search term. One way to make this happen is to use localization settings to your advantage. When a user searches for a business on Google, the results that pop up first are the places that are closest to the user's physical location.
Beefing up your local business listing on Google Places (by including photos, address, hours, etc.) is an excellent way to stand out to local searchers, and the more information you provide, the more likely a user is to choose your business over your competitor.
You should also know that your keyword strategy need not be limited to desktop searches. You can – and should – still affect the visibility of your mobile website with keywords, but with mobile keywords you need to make sure to "include the local area in conjunction with your keywords," as most mobile users are looking for businesses close to them.
Lastly, mobile search result advertising is a great way for users to find your business even if they aren't explicitly searching for it. For this to be effective, however, you must first have a mobile website, so that when users click on your ad, they will find themselves on a website that facilitates a pleasant customer experience.
Mobile marketing is just one aspect of your overall marketing strategy, but with the uptick in mobile device usage over the past few years, it is increasingly becoming one of the most important facets. You'll be doing yourself a favor if you spend some quality time figuring out how to make your company mobile-friendly.
---
Now lets look at how Culture can affect your marketing efforts.