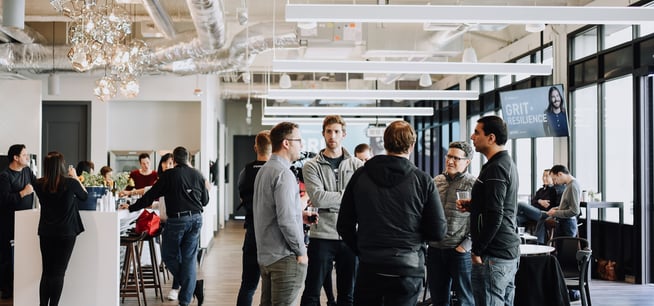 Peter Chee is a rare breed. 11X marathoner, entrepreneur, and founder and CEO of ThinkSpace, a co-working space in downtown that functions as an entrepreneurship incubator of sorts, supporting over 600+ start ups since inception. To say Peter is driven is the understatement of the century. He rises at 5:05 am religiously, and when he's up he does some pretty outrageous stuff (like swimming across Lake Washington!!).
The same level of discipline, drive, and creativity that motivates Peter's personal life exists in his business as well. And business is booming. With a location in downtown Seattle, Redmond, and another in South Lake Union, ThinkSpace lends space and support to some of the regions most creative entrepreneurs and up-and-comers. With a staff of pro's ready to help with tech, marketing, and provide excellent customer service, building your business at this entrepreneur enclave is.. well it's just a good idea.
Peter knows the value of community. And as such, he's an active member of the BizX community as well. Other members can rent a desk or office at ThinkSpace locations and pay in BizX dollars, replacing a core business operating expense. Peter is able to use these to replace expenses at his own company, such as office furniture, IT services, and website development. In total, ThinkSpace has done over $150,000 in BizX transactions since joining the community in 2012.
He recommends BizX to other business owners in his circle, emphasizing the impact that reducing monthly operating expenses can have on the health of a company.
As he looks forward to 2020, Peter is continuing to run hard and expand his business - although he has a key piece of advice for other business owners: "Take time to recharge! Look at what you do every day and ask yourself if it gives you energy or takes energy away. If it saps your energy, ask yourself if it can be delegated to someone else on your team that would find it fun and energizing to them!"
Check out ThinkSpace and meet Peter!