We are on a serious mission. We believe our quest is to upgrade your business by bringing you new sales and better buying power to improve your cash flow. Here at BizX we also believe that mobile devices have become the remote control of our lives. So we got out our whiteboards and notepads and set out to put you more in control of your business and your BizX dollars using only your mobile phone.
Nearly a year and countless hours later we thought we would take a New York minute to share some of the heart and soul that went into making the iOS & Android app that we are now launching–after all, it was built just for you.
First of all this app signifies more than a new icon on your homescreen. It showcases the beginning of the next generation of BizX. One that:
is significantly easier to find new members who offer what you need
has less friction to spend your BizX dollars
gives instant ways to view and make transactions
With those things in mind we built this app to perform one primary purpose. Word for word that purpose is to...
---
Make it easy to spend BizX dollars right now!

It should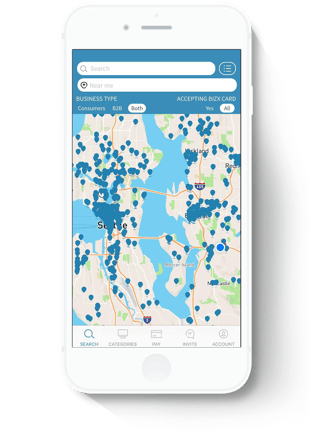 be easy. It should be nearby. It should be right now.
Did you know we have thousands and thousands of members? Most likely you haven't seen all of the amazing things our community does every single day. So we wanted the app to do a lot of that discovery for you. BizX is now easier than ever to use, both as a way to find things you need and make it easy for you to gain a bunch of new customers.
Do you need a new lawyer? What about getting new flyers printed up? Or maybe you just want to take the team out for a bite to eat. These are all at your fingertips now.
Well it turns out that managing an entire economy like ours is quite complex. Some business owners have extensive retail networks while others only accept gift certificates. The customers of every business are also different as some are other businesses like commercial restaurant hood cleaning while others' businesses are designed for consumers like haircuts and hotels. In the end we have tried to cater for as many cases as we could because we know every business is unique. Did we get it perfect? Probably not, but we took a good hard swing at it and will refine it over time.
In the end we decided to focus our energy on doing that one thing–making it easy to spend your BizX dollars right now. Here is the list of features we decided on:
1. quick search in a list or a map
Find restaurants near the office or an auto mechanic near you... finally it's very easy to do (sorry I couldn't resist at least one punny thing). You can search by keywords, add an optional location, filter out members that aren't accepting the BizX card and even only show members who offer business services, consumer services or both.
Oh yeah... you can also click the map icon in the top right to flip those results and see them all on a map! Bazinga!
---
2. discover the community through categories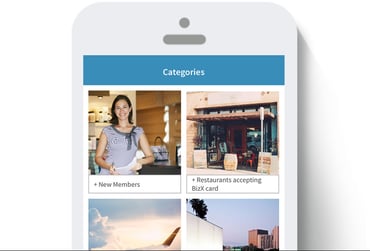 We know, we know. The marketplace website is kind of clunky to find things on. Well, that just isn't the case in the mobile app. We have made it super easy, just click and get a list of members you can talk to about spending your BizX dollars. They want new business - they want your business! So you can drill-down into the categories and discover all kinds of areas to spend BizX that you may not have seen or even considered before.
P.S. we are also improving the website. Stay tuned.
---
3. pay another member 3 ways - nearby, email address or card number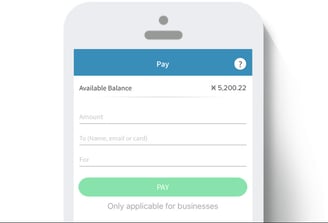 You can now pay as a buyer in addition to the traditional way of receiving money as a seller. Pretty cool right?! Not only can you pay members but you can do it by email address, that's right email address. Find a BizX member, use their services and ask them for their email address. Voila! Note this isn't for sellers to accept payment by email but rather the buyer to pay the seller–no authorization slips required! In addition you can pay members nearby (if they have enrolled... more on that another time) as well as pay them by their BizX card number if they have it handy.
---
4. grow the community with a custom invitation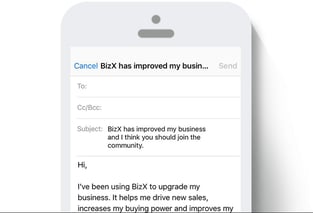 Did you know that we add a ton of members based on your requests? Every month we get referrals and every month we sign them up. There is no better compliment for us at BizX than you sharing how great being a member is. So, we've packed it into the app and made it easy for you and your friend to earn a BizX buck or two as our way of saying thanks.
---
5. digital Bizx card and transaction history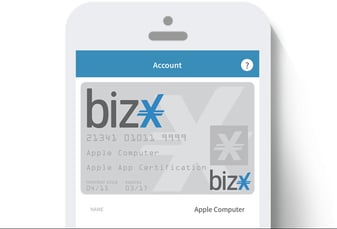 Everything around here is going digital and so are the cards. We have added your card in the app along with things like your balance, any credit line you may have and a bunch of recent transactions. It makes it really easy to see what is going on with your account with as little as a glance.
---
6. all the details you'll ever need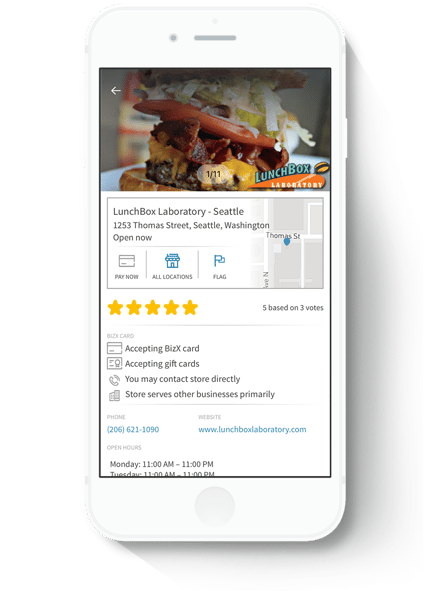 Finally we have all of the details related the store of a member. We have combined the magic of the information BizX knows about our members along with what Google knows about them along with what your phone knows about them. It turns out that is a pretty powerful combination including:
store locations and one click driving directions to their address
rating from other members
if they are accepting the BizX card
if they are accepting gift cards
how you should get in touch with them (directly or through the BizX member care team)
some photos and a description of their business

operating hours
store phone number and website (when we have it)
Best of all if there is something that isn't right either about your experience with them or there is something we just got wrong you can hit the flag button to let us know we need to get in touch with them.
---
Help me thank some people you probably haven't met
A lot of people put hard work into both what you see as well as all of the backend technology and processes necessary to support this app. Even thought it was a massive team effort I do want to name, shame and give fame to a few people who put in a significant amount of time over this past year to really make this happen. Hip hip hooray for:
Jim Brown
Julia Sokolova
Jennifer Wong
Matt Beuschlein
Reetchatha Reddy
Rekha Tamma
Ben Liu
Sven Larson
Dan Tong
Hieu Nguyen, and his team
Chirag Darji and his team
All of the BizX members that helped us with ideas and beta testing
---
Well that's a wr(app). We really hope you like what we've done with the app and we always welcome feedback. There are a ton of new features still to come too! Mostly though we hope it is something you use everyday to save cash and spend BizX!