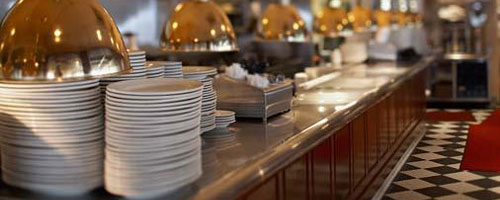 Recently restaurant and hospitality consultant, and BizX member, Ken Batali partnered with Kevin Shoemaker from Restaurant Dynamics to give insights and advice for re-opening post quarantine. Check out the article below!
Our restaurant industry, along with the rest of the economy, is going through a massive change. As we slowly come out of the COVID-19 pandemic, we have teamed up to provide our industry and our clients with several ideas, resources and services for your consideration. Most importantly, we have thought about how you might approach a potential re-launch. Let' start from right now:
Post - Closing Checklist
Your head is probably spinning with all the details of the closure, taking care of staff and your get-by-covid strategy by ramping up you takeout and delivery business. However, it is not too late to consider your post - closing activities to insure you are taking advantage of the variety of resources available to help your cash flow, reserves and team members as you approach re-opening. If you are outside Seattle, consider your local service providers in place of these links:
Contact Seattle Public Utilities or your utility provider to request deferral of payments or reductions due to full or partial business closures. SPU is offering to defer payments on a month to month basis and working on a longer-term strategy. They are very concerned about the impact of closures for the long term, and programs are evolving.
Contact the Washington State Governor's Office for a variety of programs and resources for your business. There resources for employees and for employers, and there are links to the SBA and Federal programs. There are so many resources that we recommend you block out some time to review. Some of the grant programs have limited funding, or have run out of funding, but may be replenished, so stay in touch.
Contact the Washington State Department of Revenue to request deferral of tax payments. You still need to file your reports on time, but they are working for you
Contact your purveyors. By now they have probably contacted you. However, it never hurts to ask them if they have any disaster assistance prRevenue too grams. Many are offering discounts, deferrals, and grants, and some are offering funding. Consider asking for contract changes. There is never a better time to ask for a change to a contract than when they will want to secure your business over the long term.
Review your lease.If you are in the final year or so and plan on staying, it is a good time to re-negotiate your lease and CAM charges, or to request deferral or reduction in lease payments.
Contact Angel Investor / Loan Groups Do you have angel investors, or private loans groups? They got into that end of the business to support you. Here is a step by step plan:
Provide them an update of your current situation (closed, partial etc.)
Let them know that you cared about your employees and helped them seek resources. Angel investors in small business tend to be about the people, and I have had responses from some that are just getting the idea how hard this business is. Request a 90-day deferral from payments
Provide regular updates –this is not only good because it is a professional relationship, but they know you personally and will want to know how it is going
Ramping Up to New Realities
Many things will change as you approach re – opening and speculating about to many of those changes is not worth too much thought investment at this time so we are going to focus on the concrete, what we know and what we can do aspects.
Take a Strategic Look at Your Current Business
Whether you are committed to re-open or are just considering it, now I the time to take a hard look at your business.
Give some thought to your brand - The key brand questions are: who are you, what are your values, what guides your business practices, where are you going, and how will you get there? A good starting place is to look at your social media, comment cards, and guest feedback. Consider inviting loyal raving fans into a panel discussion – in person when permitted or do a Zoom guest panel. It will give you a chance to tap into what they are thinking and how they are feeling. Take their feedback to heart, they are telling you the good and bad because they love you and want to see you back!
Balance Sheet - Is there a big debt sitting on the liability side of your balance sheet? Can you add more debt and still operate in the short term as you re-open? Can you re-negotiate your debt load?
Lease Obligations – do you have a short term left on your lease? Are you eligible for an extension? What will it cost you? There is a direct relation to your balance sheet liabilities and lease obligations. The debt must be discharged before your lease ends for obvious reasons. Renewing your lease and getting more time is a key factor in your decisions moving forward.
5 Year Pro Forma– Consider a two-year ramp - up time frame as sales are predicted to be lower even in the longer term. This may not be as bad considering there more than likely be fewer restaurants standing and competing. However, you may need to have some factors baked in for mandated compliance changes and their effects. And there is the fear factor - people may love you, but most folks are going to have this pandemic in the back of their minds. Yes, we will adapt, and confidence will grow as treatments and vaccines become the norm; we humans are social beings and will never stop partying together.
Practice a New - Open Strategy to Re-Open Successfully
Budgeting for operations changes – if you adapted your take-out and delivery program, will it work with during peak hours of in - house operations? Most small hotels have a separate set up area and protocols for doing rooms service, and menu items are designed to operate with in house service. Plan on adapting some of their ideas because take-out and delivery are here to stay.
Budget for re- open expenses– supplies, product inventory, hiring, training and re – staffing takes funds that will need to be paid for before revenue kicks in.
Stay in touch with your crew- continue to foster the sense of teamwork and cooperation that has made your restaurant great. A simple email, text or phone call, letting them know that you are thinking about them.

Offer to help with their unemployment claims.

Anything to show that you care AND that you are planning on reopening as soon as you are allowed. Expect to lose some crew members.

They might enjoy that new job at Amazon or Costco.
Stay in touch with your guests. Even if you are not open for take-out, keep your social media active.

Recipes, Throw-back pictures, tempting food pictures . . .. Clickable content that keeps you in your customer's mind.
Communicate your plans with your key vendors. Especially if you work with any small producers. Find out what they are projecting regarding ramping their production back up as needed.
Use your takeout strategy to consider sending a bounce-back out with each order.Something that is good for a specified period and tied to a specific event.

Example:

A coupon for complimentary dessert with dine-in dinner.

Good for 30 days after the governor's decision to re-open commerce.
Map Out Your Re-Opening Plan Now:
A Re-Opening Plan is a very detailed checklist where the more you do to get it right through the plan is the more that will happen right after you open. This list represents our top to dos for your consideration:
How much prep time will your team need – how much crew training time will you need?
The restaurant will probably need to be cleaned. Uncovered dishes, glassware, kitchen utensils will need a re-washy.
Establish some new-reality sanitation protocols. There will be new guidelines but start now. Let the customer see you cleaning doorknobs, sanitizing menus and tables.
Some social distancing will be expected upon re-opening. This may mean spreading out tables to 6-foot distances.

Adjust needed staffing levels accordingly.
There will be new safety guidelines and programs rolled out that you will have to update and retrain your team on. Guest will know if you are practicing good safety and disease control by the protocols you establish. Do Not short yourself on this one and do extra training with your team
If you have a catering or banquet business, prepare to respond quickly to inquiries.Pent up demand for birthdays, weddings, and memorials could create of flood of bookings.
Reservations systems will need re-activation. May also need adjustment if your social-distancing protocols have changed your table count.
Verify crew availability and write schedules accordingly
Evaluate hours of operation and offerings to re-open as efficiently as possible. Use what you learned before the shutdown to guide your decisions.

Is lunch a viable business?

Late night hours?

I believe the guest will be in a forgiving mood if you need to keep some operations scaled back.
Are you going to throw a re-opening celebration??
"Welcome Back" features, cocktails, specials?
Over-communicate to your crew! If you have made any changes to hours or offerings, make sure they are confident explaining to guest.
Crew will be anxious to work. HOWEVER - - the virus will still be active. All the precautionary messages regarding self-quarantine should stay in place.

Your customers will expect hyper-vigilance with food safety and sanitation protocols.Consider enhanced safety and cleanliness protocols including:

Restrooms must be spotless and cleaned regularly.
Doorknobs and push plates should be cleaned regularly
Sanitizer should be broadly available for guests and crew
Eliminate any self-service stations (buffets, etc.)
More than ever, aprons and uniforms must be clean and spotless
Consider a disposable (paper) menu. It may not match your "Brand", but guests will be anxious about touching something that others may have touched.
Table-top accessories (Salt & Peppers, etc.) must be cleaned between each use - - or removed from tables completely
Commonly used accoutrements such as sugar caddies or tea presentation should be re-considered into single-touch presentations
Drink garnishes should never be touched bare-handed
Straws - - eliminate completely or purchased wrapped
BY
Ken Batali | Batali Associates | Link: Batali Associates
Kevin Shoemaker | Restaurant Dynamics | Link: Restaurant Dynamics