Have you ever hit a giant, suspension-rattling pothole and wondered aloud why someone hasn't done something about it? If that pothole is in your business parking lot, P3 can help you do something about it.
P3 is Pacific Pavement Protection and they know that curb appeal is an important factor for any business, as it is the first impression your customers will have of your company.

Commercial businesses see a lot of car traffic every year, so driveways, parking lots and sidewalks can experience wear and tear over the years. Seeing this need, Pacific Pavement Protection Inc. was created by three partners in 2004, as the result of two small businesses that were both pavement maintenance companies with synergistic ideas shared to improve the new company. P3 was created to help property managers and owners with their asphalt maintenance needs.
Now solely owned by Karl Eells, one of the original founders, P3, is on the fast track to becoming a well-known local brand in the Puget Sound area.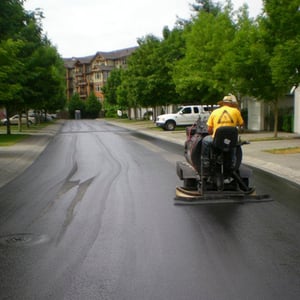 Pacific Pavement Protection is the premier provider for asphalt repair, crack sealing, sealcoat, striping, pressure washing, concrete repair and curbing. Approximately 50% of the company's business focuses on paving, 30% on sealcoating and 20% on striping.
The company provides pavement solutions for national retail/hotel/motel chains, multi-family housing, shopping centers, industrial warehouses, medical complexes, churches and community centers.
P3 thinks of itself as the "Holmes on Homes" for pavement. The company sometimes has to rip out incorrectly done work and redo it the right way. The main focus is always doing the job the right way and protecting customer's assets.
Eells has focused the business on delivering honest advice and diversified proposals. He takes great pride in the fact that its employees arrive at job sites in uniform and in logoed trucks.
When the economy slowed in 2008, Pacific Pavement Protection had to become very efficient on large jobs, and sold off old equipment for newer, bigger trucks to reduce its operating costs. Like most businesses, the sluggish economy made doing business tough, but P3 recalibrated its business strategies to meet client needs and kept many strong relationships over the years.
Another way Pacific Pavement Protection stretches its budget – the BizX community.
When Pacific Pavement Protection got its start in 2004, a property manager that had contracted the company for a project introduced them to BizX. Now 11 years later, Pacific Pavement Protection is still going strong as an active member in the BizX community.
Over the years the company has used BizX to connect with customers it may have never come across outside of the BizX community and has used its BizX dollars to buy a number of contracting services, gift items for employees and recreational and entertainment services for team building events.
Pacific Pavement Protection leverages its BizX dollars to reduce cash spending and plan for slower business months through careful cash flow and sales tax management.
As the company enters its 11th year, Eells is planning to further grow the company sales base over the next three years and has recently added two new team members, Nicole Kuhnau as marketing manager and Cody Anderson as business development to help with that process.
It's been a pleasure working with Pacific Pavement Protection for so long and we can't wait to see how the company grows over this next decade.

---
Find out how BizX can help you save more in your business!