Another successful referral contest is in the books! For 7 weeks, referrals and social shares rained down from the BizX community from all three offices.
A huge shout out to everyone that participated in our #JoinBizX referral competition. We got some amazing referrals, gained some awesome new members and gave away great prizes along the way!
We had over 100 competition entries, almost 20 new members joined the community as a result and we gave away some great prizes!
A big shout out to all of our #JoinBizX winners!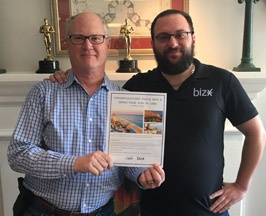 Cheers to our grand prize winner, John Kappler, of Architectural Innovations! He'll be enjoying a trip to one of the Grand Solmar resorts in Cabo! Have a great time John!
Congrats to all of our winners and thanks again for participating in our #JoinBizX referral competition!
Though the competition is over, you can still receive 100 BizX when a business you refer signs up! 100 to you and 100 to your referral! And referring has never been easier with your personalized referral link!
The best compliment we can get is a referral, plus the more businesses you refer, the more places you have to spend your BizX and the more new customers you have the chance to attract!
Keep referring, share your personalized referral link, and be on the lookout for more ways to win. Don't forget to follow us on social media too!