Another BizX Holiday Party for the books! Here at BizX HQ, we're still on Cloud 9 following Tuesday's night of dancing, drinks, and networking.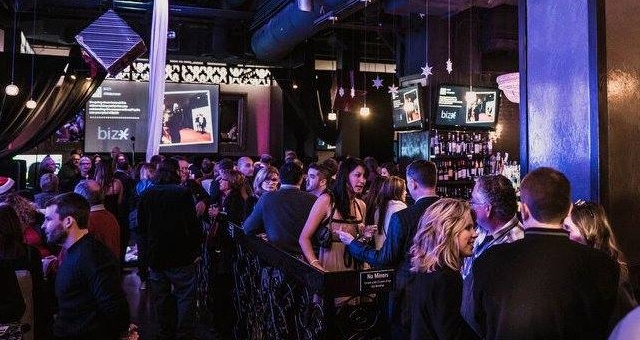 Thank you to all of the BizX members, friends, family and colleagues that showed up in high holiday spirits. Here are some things that still have us super excited!
700 people + drinks + food = $500 in cash… Nothing brings to life the value of our special community quite like a party. And that the entire soirée was paid for in BizX dollars (save for the $500).
We are BLOWN AWAY by our participating members! If you liked what you saw, be sure to book them for your next event!

Here list every member that participated and what they delivered –

The exotic cars parked out front were there thanks to one of BizX's newest members, Zadart.
N33d Creative was on scene taking photos of this momentous event.
Cookies with the BizX logo baked on them thanks to Celebrity Cake Studios.
Creative Ice took the party to another level with an entire bar made of ice.
Entertainment for the night thanks to National Event Pros.
Grand Event Rentals provided us with all of the tables, linens and tent.
Pyramid Staging handled the lights and projector screen.
Wine for the event and wine tasting thanks to Precept Brands.
Shelby Burford Design created the slideshow we had playing on the big screen!
Fred Granados worked the mic all night MCing.
Photo booth and props thanks to USnaps!
Gigs4U did a phenomenal job making sure the music was bumping all night long with awesome live music and a DJ.

We love our team! The not-so-often-glamourous life of a hard working BizX'er gets spiced up once a year when we throw this event. We loved seeing our team enjoying one another, enjoying our members, and letting loose on the hardwood!
We need to do more of this! Good things happen when we bring our members together. The sight of our members meeting, connecting, and collaborating gave us chills. Expect more frequent invitations exclusively for BizX member in 2017!
Have a look these party pics, download our gift guide, and peruse this holiday seasons gift certificates! And as always, before you spend cash, CHECK BIZX!
Re-live all of the fun of our 2016 Holiday Party by checking out all of the photos on our Facebook page!