School is back in session. The pressure for vacations and trips is off, and you can rest easy knowing that for now, all you have to plan is day-to-day life. Flights, hotels or visits to foreign countries will be put off for a bit.
However, Thanksgiving break and winter vacation will be here before you know it, and those family vacations will be back in full swing. Remember the misbehavior and challenges you didn't anticipate while traveling with your kids over the summer? Reactions from other adults, your partner or even your children might have hinted at something wrong in how this last vacation worked, or well, didn't.
For most vacations, transportation, events and resting are important considerations for smooth family travel. Planning ahead makes surprises and changes more manageable and ultimately keeps every member of the family happier.
Plan and Prepare for Your Mode of Transportation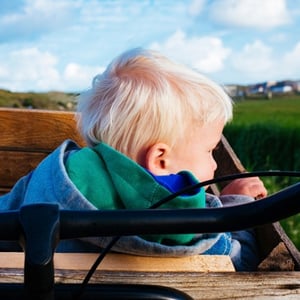 Transporting young children has the potential to be the most stressful part of family vacations. Confined spaces are not made for a child's needs, which can be frustrating for everyone involved. A great way to circumvent this is to have all the necessities readily available. This can include anything from wipes to toys to bottled water. The most important factor is that you are able to get whatever your child needs to them as soon as possible. The same applies for carrying duplicates of certain items, like snacks and clothes.
Even with older children, it's important to remember that a child can't anticipate his or her own needs as well as you can. If you leave it to them, something will be left behind, making the cramped situation even worse. Packaging toys, foods or hygienic items together, for them, will keep everyone organized, and stop crying and screaming in their tracks.
Whether you're off on a road trip daycation or on a plane to visit Grandma, these skills can be applied to various methods of travel.
Planning the Main Event
For a kid, vacations are like a concert or a blockbuster film. There's a lot of hype and excitement before you get there. However, the event itself may be lost to sensory overload if there is too much going on or they can't be as curious as necessary.
Plan something that will enrich your kids. Top college essays were never written about days spent at the pool. Review some basic etiquette and inspire them to be on their best behavior, and then take the kids to museums, libraries, monuments and theatres. One location is just enough to handle in a day, offering a manageable amount of people and sights to make a lasting impression. At many such places, docents or audio guides will be there to help you be a teaching influence.
Just don't overdo it. Limiting cultural trips to one per day may not be the pace of your gap year backpacking trip, and that is fine. Kids have a limited capacity for experiences. They also have more years to see the world, so take your time when planning new experiences.
Plan for a Bit of Rest
Spending some down time, at a hotel, apartment or house, will help balance the vacation. Your vacation living space is most efficient when it's close to the action, limiting commutes for tired kids. It is also important to consider amenities like pools, room service and Wi-Fi to keep the whole family happy. Some hotels even have board games for more old-fashioned fun.
You'll need a break sooner than you know. Spending that time with your kids will forge a bond and make a difference in their lives. Tailor these suggestions to your needs, so that the break is a good one for everyone.
Those are a few of my tips for a successful family vacation. What do you have to add? Shoot me an email here and let me know!
---
Take a look at some tricks and tips to saving money on your next trip.