Employees act as the face and lifeblood of a company. They need to be motivated, happy and able to work as a team. This leads to more productivity, better retention and ultimately more cash flow for the business.
Most companies turn to activities or team building events of various degrees. At the pinnacle of these sits the king of cohesion, John Chen and Geoteaming, the innovative team building adventure around the sport of geocaching.

As an engineer at Microsoft, John "always knew there was something [he] was supposed to do, [he] just didn't know what it was." That is, until 1997, when he hired an executive coach and wrote an entire business plan in 48 hours which he affectionately refers to as "The Jerry Maguire Moment". After three years of part time work, John turned his passion into a full time dream. He left behind engineering success and US patents and looked ahead to launch what would become Geoteaming.
"I wouldn't have had half as much fun if I stayed at Microsoft… I've learned so much starting this company and facing the challenges of being an entrepreneur."
Geoteaming started as a nine month program called The Journey, where six months in, everyone attempted to summit Mount Rainier as a motivator. It was a way to set BHAGs (Big Hairy Audacious Goals) and then figure out how to achieve them.
"It wasn't about reaching the summit; it was about reaching your summit."
That is, until the 2001 dot com bubble burst and the economy dropped out. John's phone quit ringing. Then a chance call came in from his advisor, talking about this new thing called geocaching. John gave the new recreational sport a try - he grabbed a GPS receiver and found a cache near his house. Seeing the similarities between The Journey and this new high tech treasure hunt, Geoteaming was born.
Geoteaming uses technology and adventure to create a unique team building experience.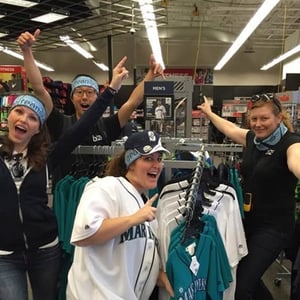 "This is not only a treasure hunt. The riches you take away are lessons that apply to how your team works in your company environment."
Organizations of any size can benefit from this teambuilding adventure including, schools, businesses, churches, conventions, large corporations and small-to-mid sized businesses.
To date, Geoteaming has led more than 1,300 events for more than 130,000 participantsfrom 30 states and 7 countries. Groups vary in size, anywhere from three to 5,000 people.
During these travels, BizX and Geoteaming came together at a networking event in 2006. Starting slow, Chen began using BizX to go out to eat and get his dry-cleaning done. Which quickly blossomed into company parties paying for food, venues, transportation and events all using BizX.
"Our business uses a lot of bandanas to identify our teams and we give a USB drive in the form of a bracelet with photographs at the end of every event. The innovative bracelet is branded with our logo, we get all this and more on BizX!"
The savings John has realized are just as good as his tips for other members within the community.
"Find and share your best success stories and then help other businesses by introducing them to BizX, especially if they can't pay for your services. You can help them get what they want," explained Chen. "Sometimes team building is expensive for a small or medium size company, but we're well within the range if you use BizX."

---
Check out more photos from BizX's Geoteaming adventure!