There are pieces of furniture and then there are works of art that double as furniture. Works that exude the theme or vision of a setting, something that is either a grand find or a custom job. You know the type, the ones that ooze craftsmanship and talent, where you can actually see the love and passion imbued into each piece. Jesse, of Crafthammer Design is an artist of such caliber.
Maybe you've seen his work in a magazine or perhaps you wandered by the showroom in Kirkland. Perhaps the rustic, aged feel really stood out when you saw his work at the 2014 Holiday Party or one of the tradeshows he has attended. Whenever or wherever you saw a bench, table or chair made by Crafthammer Design, it surely left a lasting impression.
We recently had the chance to sit down with the owner and operator of Crafthammer Design, Jesse Wood, to talk furniture, fabrication and of course, BizX.
Crafthammer Brings Exquisite Craftsmanship to the Home or Office
What started as a hobby for Jesse, has turned into a passion. Looking to the master sculptors, metal forgers and wood workers of a time long past for his inspiration, Jesse brings true quality and craftsmanship to create things of unrivaled beauty,
"Everything I do, I look at as functioning artwork."

With no one to teach him, Jesse was forced to navigate his craft alone, spending countless hours honing his skills, practicing his craft through rigorous trial and error. Each piece he creates is different from the last, often making things 2 or 3 different times to ensure each project turns out every bit the masterpiece Jesse envisions it to be.
Jesse uses a unique style and artistic design that he applies to traditional furnishings, making them perfect for any indoor or outdoor setting. Using custom concrete fabrication and ironwork, he creates truly unique and often antique looking pieces that will be real crowd pleasers for your home or office.
"I want to produce stuff that blows people's minds. I want each piece to be better than the last thing I've created, along with what anyone else is doing too – that's the only thing I think about."
Jesse joined BizX in 2013, and ever since, has seen amazing benefits from joining the BizX community.
"I was able to purchase a full year full page add in both Luxury Home and 425 Magazine" Jesse commented, "my business doesn't generate that kind of money right now, so that alone has been worth it".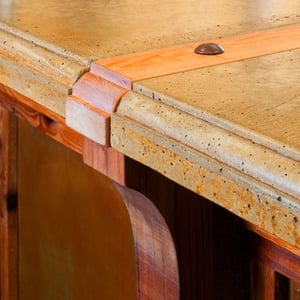 The BizX buck doesn't stop there as he's also found great value in other avenues, "I've taking advantage of the restaurants and found a place that distributes wine, so it's made my entertaining abilities expand. I've been doing a lot of entertaining with BizX" remarked Jesse.
It has been a great stimulant for his business, both with the things he has gotten done and the new customers it has opened him up to. In fact, with all of this new exposure and growth, Jesse was recently able to leave his day job to focus on his passion that has grown into what Crafthammer Design is today.
Whether you are missing that piece of furniture to tie the room together or that perfect outdoor accessory for your patio or office front, Jesse should definitely be your first choice. No matter if it's a piece from his show room or something custom he creates, you will not regret contacting him.
---
Check out some of our other Member Spotlights!