Another Thursday night in La Jolla, California, one of the most special oceanside enclaves on the west coast. As the sun hung low in the sky, draping the quaint village and silver sea in an orange glow, local business owners began to gather at the flagship Yogasmoga store on the corner of Girard and Wall Street for an evening of networking, cocktails, and discussion.

Joining BizX as co-hosts of the event were La Jolla Lifestyle Magazine, Tapasya Bali, founder and CEO of Yogasmoga, Brett Murphy, owner of the La Jolla Sports Club, and April's on Girard. The La Jolla Merchants Association supported the event, and was represented by also by Brett Murphy, the Asscociation's board member and VP.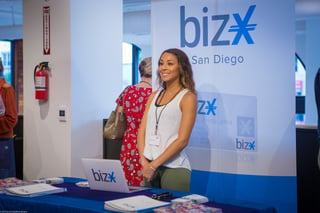 The venue host loosened up the crowd with a bit of retail therapy, all Yogasmoga merchandise was offered at 10% off for the evening, BizX or cash, before the group jumped into business. After short addresses from Dan Kosh, BizX CGO, and Bob Bagga, BizX CEO, the audience welcomed Brett to talk about the important initiatives that the Merchants Association is undertaking to drive consumer foot traffic to patronize the local businesses in the idyllic village.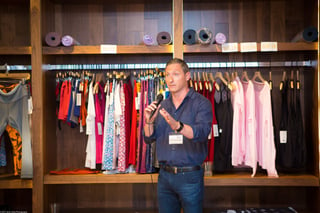 The objectives of the group are fairly simple, but very aggressive. First, to incentivize residents of broader La Jolla to reengage with the village, and second, to inspire downtown San Diego dwellers to discover the unique seaside haven - in particular, the group is hoping to target millenials. With a focus on ramping up social media efforts showcasing the special qualities of the Village, hosting regular events, and working to support local merchants in advertising efforts, the evening served as an opportunity to get the discussion between the board and the local merchants going.

Core to BizX's ethos is the understanding that when business owners come together, magic happens. BizX seeks to enable this magic and empower local business owners through community events and a community-only-currency, from business owners, to business owners. The recent La Jolla event was yet another display of this empowerment, every element of the event paid for with BizX dollars.
Be a part of the BizX San Diego Community!