The biggest and best things happening in your community! Help us celebrate these accomplishments, after all, at BizX, its small business week every week.
EY's Entrepreneur of the Year Award Winners
Earlier this month, two prominent BizX members were recognized as winners of the Entrepreneur of the Year 2019 Pacific Northwest Region Award. Congratulations to award winners Jordan Allen of Stay Alfred Vacation Rentals and Alissa Leinonen of Gourmondo Co!
The winners were selected from a panel of previous award winners consisting of leading CEO's, investors and other regional business leaders at a special gala held on June 14th, 2019 at the King St. Ballroom & Perch.
Wipliance featured in CEPro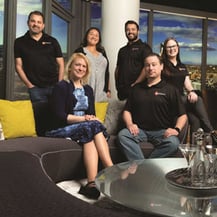 Wipliance is making waves in their industry! Not only did they have an article written about them, but earlier this year Wipliance was honored as the 2019 TechHome Mark of Excellence Integrator of the Year. The 13-year-old company attributes much of its success to their ability to constantly change and evolve to bring continued growth.
Shout to Wipliance and their continued excellence! Its community members like this that really make the network shine.
ALEKO Block Party and Sale
ALEKO hosted their annual Block Party and BizX earlier this month at their warehouse in Kent. Thousands of items were on sale, all at 100% BizX! There were hot tubs, stand up paddle boards, automatic gates, saunas, patio furniture and just about anything else you can think of!
BizX member combed through loads of discounted items over two days, all while enjoying raffle prizes, food, games and an inflatable bounce house. If you missed the sale, ALEKO has some pretty awesome things available on the BizX Marketplace. Make sure you don't miss out on next year's sale!
Russell Wilson Celebrity Invitational 2019
Team BizX was onsite for the annual celebrity golf tournament and charity event at Suncadia and Swiftwater Cellars in Washington. There was an incredible couple of days spent networking, celebrating and raising money for a good cause! Over the past 4 years, the Wilson Celebrity Invitational has raised several million dollars for Strong Against Cancer.
---
Have you won an award, opened a new location or remodeled an existing location? If there is some big news going on in your business, we want to celebrate with you, so let us know! Email Matthewb@bizx.com or hit the button below!