When disaster strikes, the American Red Cross is there to help. Whether it strikes a household or entire communities, through house fires, floods, hurricanes, landslides and earthquakes the American Red Cross is there to help those affected.
Though most widely known for its disaster response, the American Red Cross is much more than that. Through the generosity of volunteers and donors, the American Red Cross is able to prevent and alleviate human suffering in the face of catastrophes and emergencies.

The American Red Cross was founded in Washington D.C. in 1881 and has since grown into over 600 chapters nationwide that provide disaster relief, support military families, collect blood donations, teach health and safety services, and provide international assistance.
Disaster Relief
Through its strong network of volunteers, donors and partners, the Red Cross is always there in times of need, responding to over 70,000 disasters a year, helping families and communities pick up the pieces and get back on their feet.
Military Assistance
America's military members, veterans and their families are another group of people that the Red Cross lends a helping hand to. Through various programs and outreach the Red Cross helps prepare, cope and respond to the challenges of military service. Each year over 150,000 military families and veterans are on the receiving end of emergency communications, training and support.
Blood Donations
Not just taking in of material goods and monetary donations, the Red Cross is the largest single supplier of blood and blood products in the U.S. 40% of America's blood supply comes from the nearly 4 million people who donate blood through the Red Cross each year.
Health and Safety Services
The Red Cross is the nation's leading provider in health and safety courses. More than 9 million people take CPR, First Aid and Lifeguard training courses every year to prepare, practice and brush up on their lifesaving skills.
International Assistance
They also belong to one of the world's largest humanitarian networks with over 13 million volunteers in 187 countries. Over 100 million people across the globe are helped by the Red Cross through disaster response, the building of safer communities and the teaching of the rules of war.
BizX and the Red Cross Come Together
Every business has operational costs. BizX's bread and butter is to help companies gain new business and turn around and use the BizX dollars to offset those operational costs. The BizX dollars donated to the Red Cross and any of the other 24 non-profits in the network helps to offset these costs, freeing up more cash for these organizations to spend helping people.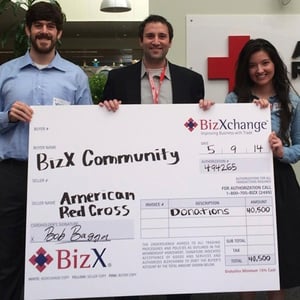 The Northwest Region of the Red Cross partnered with BizX in April of 2014, just after tragedy struck the community of Oso in Washington state. In response, the BizX community came together and raised over 40,000 BizX to help with the disaster relief, with substantial donations coming from companies like Project Bionic, Arterian, Benaroya, Emerald Outdoor, True Life Coaching and nearly 40 other BizX members from around the community. Donations were even filtering in from the east coast curtesy of a partnering network, Barter Business Unlimited.
Seeing the success its fellow chapter was experiencing, the Red Cross Silicon Valley came on board shortly thereafter in December of that same year to work in tandem with BizX's Oakland office.
Since the two chapters joined the network, the BizX community raised over 50,000 BizX dollars that the Red Cross has put to use offsetting costs, using BizX to get thousands of dollars in printing done, freeing up their cash to spend in other areas.
Help the Red Cross continue its mission and turn compassion into action. Donate to either the Northwest Region or the Silicon Valley Chapter to help with disaster relief, operational expenses and fundraising expenses.